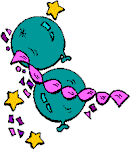 Let's celebrate! It's the beginning of a New Year, it's the beginning of a new Century! To help you with your celebrations I've listed some of my favorite appetizers and desserts that will go with anything from pizza to an elegant black tie dinner. So no matter what your plans are to usher in the New Year you'll have a wonderful beginning and a terrific end, just like I hope your year will be.
Sausage Swirls
1 lb. bulk pork sausage
1/4 Cup Steak sauce
1/3 cup chopped red bell pepper
3 - 8 oz. cans refrigerated crescent dinner rolls
Preheat oven to 375 degrees. In a small bowl combine the sausage, steak sauce and red pepper, set aside. Separate each can of dough in 4 rectangles, press remaining perforations to seal. Spread 2 Tblsp. of sausage mixture on each rectangle. Starting at the short edge, roll up jelly roll style, seal. Cut each roll onto 8 pieces, place cut sides down on an ungreased baking sheet. Bake for 12 to 15 minutes or until golden brown. Serve immediately. Rolls may be wrapped in foil and frozen for up to 2 months. To serve, thaw slightly, slice and bake as directed above. Makes about 8 dozen.
Cheese Straws
1/2 Cup unsalted butter (softened)
1 1/2 Cups Flour
1/2 tsp. Salt
1 Pkg. (4 oz) Fancy shredded Swiss or Cheddar cheese
2 Tblsp. ice water
Preheat oven to 400 degrees. Cream butter in a large bowl with an electric mixer. Add flour and salt, beat one minute. Add cheese, beat another minute. Sprinkle with water, beat until do