~ Web Rings ~
These are the some of the web rings I belong to. Please take a couple of minutes to visit a few of the other members in these rings. There are some wonderful sites out there and these people have put in a lot of time and effort to make your visit a pleasant one.
This Recipe Ring site is owned by AuntLynnie.

Click for the [Previous] [Random]
[Next Site] [Skip Next] [Next 5]
Click here for info on how to join The Recipe Ring.




[ Previous 5 Sites | Skip Previous | Previous | Next ]

This RingSurf Food~n~More Ring Net Ring
owned by Aunt Lynnie's Kitchen.

[ Skip Next | Next 5 Sites | Random Site | List Sites ]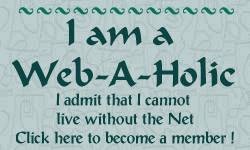 [Recipes] [Holiday Recipes] [Egyptian Recipes]
[Cooking Remedies] [Emergency Substitutions] [The "Basic Four"]
[Links] [Awards] [Banner Exchange]