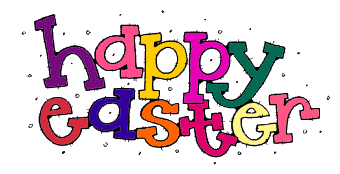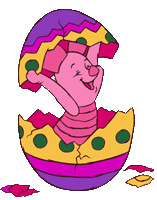 Spring is here! And with it comes Easter, a time of renewal. Traditional Easter dinners include Ham, Lamb, Pork roasts and oven roasted Chickens along with Asparagus, New Potatoes and Early Spring Peas. Our traditional dinner was always a Krakus © Polish canned ham and it was delicious slow cooked in a low oven for about an hour with a brown sugar mustard glaze! Here are a few recipes that I hope will help you plan for a wonderful holiday table. May you have a Blessed Easter and a Happy Spring!
An adorable Easter adoption from Mr. East R. Bunny!
Asparagus with Garlic Mustard
1 lb. Fresh Asparagus spears, trimmed (about 24)
1/4 Cup Butter or Margarine
2 Tblsp. Country-style Dijon mustard
1/4 tsp. pepper
Pinch of Salt
1/2 tsp. minced fresh garlic
In a 10" skillet place asparagus spears. Add just enough water to cover. Bring to a full boil. Cook over medium heat until asparagus is crisply tender (about 5 to 7 minutes). Drain and return to the skillet. Push asparagus to the side and add the remaining ingredients. Heat just until butter is melted then stir and cook over medium heat until heated through (about 5 to 7 minutes).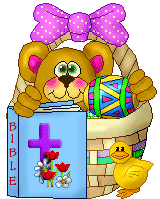 Mr. East R. Bunny made me this Easter Basket at
Copyright ©1999 BillyBear4Kids.com
Boiled New Potatoes with Parsley
12 small new potatoes
Salt, pepper and oregano
1 clove of garlic, minced
1/4 cup grated Romano cheese
1/4 cup oil
2 sprigs of parsley, finely chopped
Boil and peel potatoes. Put in a bowl and season to taste with the salt, pepper and oregano. Add garlic, cheese, oil and parsley. Toss gently and serve either hot or cold.
My hatching egg, H.B. from Mr. East R. Bunny!
Roasted Leg of Lamb with Rosemary
3 to 4 lb. Leg of Lamb
2 Tblsp. minced fresh garlic
2 tsp. Rosemary leaves, crushed
1 tsp. salt
1/2 tsp. pepper
Heat oven to 350 degrees. Place Lamb, fat side up, on a rack in a roasting pan. In a small bowl stir together the remaining ingredients. Spread over Lamb. Bake for 60 to 90 minutes or until meat thermometer reaches 160 degrees F (for Medium) 140 degrees F (for Rare) 170 degrees F (for Well). Serve with Mint Jelly.
Can't wait to see what hatches from this egg from Mr. East R. Bunny!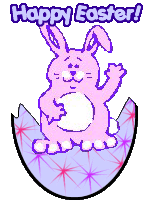 Italian Easter Bread
3 Cups All-purpose flour
1/4 Cup Sugar
1 Package active dry yeast
1 tsp. salt
2/3 Cup Warm milk (110 - 120 degrees)
2 Tblsp. Softened butter
7 Eggs
1/2 Cup mixed candied fruit, chopped
1/4 Cup blanched almonds, chopped
1/2 tsp. Anise seed
Vegetable oil
In a mixing bowl combine 1 Cup flour, sugar, yeast and salt. Add milk and butter. Beat 2 minutes on medium speed. Add 2 eggs and 1/2 cup flour. Beat another 2 minutes on high speed. Stir in fruit, nuts and anise seed, mix well. Stir in enough remaining flour to form a soft dough. Turn onto a lightly floured board and knead until smooth, 6 to 8 minutes. Place in a greased bowl, turn once, cover and let rise in a warm place until doubled in size, about 1 hour. If desired, dye the remaining eggs with a non-toxic dye, leave them uncooked and lightly rub with oil. Punch dough down. Divide in half, roll each piece into a 24" rope. Loosely twist ropes together and place on a greased baking sheet. Form into a ring and pinch the ends together. Gently split ropes and tuck eggs into the openings. Cover and let rise until doubled, about 30 minutes. Bake at 350 degrees for 30 to 35 minutes or until golden brown. Remove from pan and cool on a wire rack.

Carrot Cake
Cake
2 3/4 cups grated carrots
1 cup pureed pineapple
2 1/4 cup flour or cake flour
1 1/2 cups sugar
1/2 cup brown sugar
1 tsp. baking powder
1 1/4 tsp. baking soda
4 eggs
1 cup vegetable oil
2 tsp. cinnamon
1/4 tsp. ground cloves
1/4 tsp. salt
Optional Add Ins
1/2 cup nuts and/or raisins
Frosting
16 oz. cream cheese
5 cups confectioner's sugar
2 tsp. vanilla extract
Pre-heat oven to 350 degrees. Grease and flour 2 - 9"cake pans. Mix dry ingredients together in a large bowl. Blend in oil then beat in eggs 1 at a time. Stir in pineapple puree and carrots and mix until well blended. Pour into the two greased pans and bake for about 30 minutes or until a cake tester comes out clean. Remove cakes from oven and allow them to set for 3-5 minutes. Remove from pans and cool completely on a wire rack before frosting. Beat cream cheese until light and fluffy. Beat in vanilla. Gradually beat in confectioner's sugar. Frost cake when it is completely cooled.
Thank you Mr. East R. Bunny for my special Angels of Hope, Faith and Love
Bird's Nests
1 bag Reeses peanut butter chips (10 oz. )
1 Tblsp. solid shortening (Crisco)
1 large can (5oz.) LaChoy thin chow mein noodles
1 bag pastel colored M&M peanut candy
Melt entire bag of chips and 1 tbsp. of shortening slowly in microwave or in double boiler on stove top. If using microwave, heat full power in intervals of 30 seconds at a time and then less as chips begin to melt. You want the chips and shortening to be well blended and creamy and hot. DO NOT OVERCOOK!!! Immediately pour the can of chow mien noodles into the peanut butter mixture and toss lightly to coat noodles. Avoid crunching noodles. Using a spatula can help. Do this quickly, making sure the noodles are evenly coated. Drop by spoonfuls onto WAX PAPER and gently form into the shape of a nest, leaving a hollowed area in the center in which you immediately place three M&M peanut candies for the "birds eggs". Helps to have two people! Each batch makes approximately 14 nests.
Thank you Mr. East R. Bunny for sending this delicious recipe!

Before you go, please stop by and see the wonderful page my Secret Easter Pal, Jelly Bean made just for me! Click on the little Purple Jelly Bean to go there!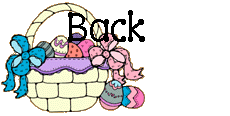 [Recipes] [Egyptian Recipes] [The "Basic Four"]
[Cooking Remedies] [Emergency Substitutions]
[Links] [Awards] [Banner Exchange] [Web Rings]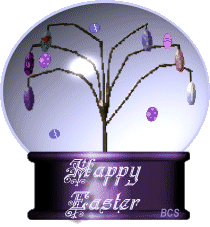 Watch this Easter Tree Grow! I did and isn't it pretty?