Happy Halloween Recipes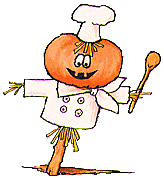 Let's cook up some special holiday recipes. Hope you enjoy these traditional Halloween treats and for the not so traditional I've added links to some scary Halloween Web sites that have creepy, crawly recipes.

Caramel Apples
4 medium apples (washed and dried)
2 Cups Sugar
1 Tblsp. corn syrup
1/2 cup water
1 cup (2 sticks) unsalted butter, cut into pieces and room temperature
1 cup heavy cream
Pinch of salt
Chopped peanuts (optional)
Fill an oven proof bowl with water, just in case the caramel starts to burn you can submerge the bottom of the saucepan in it. Insert a small stick into the stem end of each apple, set aside. Place sugar, corn syrup and water in a heavy bottom, medium sized pan with high sides. Stir with wooden spoon to combine. Cook over medium heat. Don't stir until the syrup becomes a deep golden brown. Remove from heat and with a clean wooden spoon beat in the butter then the cream. Add a pinch of salt. Dip apples in caramel swirling and tilting the pan so apples are completely coated. Dip in chopped peanuts if desired and place on lightly buttered wax paper to cool and harden.
Pumpkin Seeds
Remove seeds and pulp from pumpkin onto newspaper. Seperate seeds from pulp and place seeds in a colander. Rinse thoroughly to clean the seeds. Heat oven to 300 degrees. Shake colander to remove excess water. Place seeds on a large parchment lined baking sheet. Drizzle with oil and sprinkle with salt. Place in preheated oven and toast, stirring occasionally until light golden brown, about 45 minutes. Remove from oven and cool on a rack. Adjust seasoning to taste and enjoy.
Popcorn Balls
1/4 cup margarine
1 cup Brown sugar
1/2 cup light corn syrup
2/3 cup condensed milk
1/2 tsp. vanilla
5 quarts plain popped popcorn
In a sauce pan combine the margarine, sugar and corn syrup. Stir well and bring to a boil over medium heat. Stir in condensed milk, simmer stirring constantly until the mixture comes to the soft ball stage. Stir in the vanilla. Pour over the popped corn and stir to coat. Butter your hands lightly (be careful popcorn will be hot) and shape popcorn into balls about the size of a tennis ball. Place on waxed paper and cool.
Hot, Spicy Apple Cider
(From Good Morning America)
6 cups fresh apple cider
1/4 cup pure maple syrup (more or less, to taste)
2 cinnamon sticks
6 whole cloves
6 whole allspice berries
6 strips orange peel
6 strips lemon peel
Pour the apple cider and maple syrup into a large stainless steel saucepan. Place the cinnamon sticks, cloves, allspice berries, orange peel and lemon peel in the center of a washed square of cheesecloth; fold up the sides of the cheesecloth to enclose the bundle, then tie it up with a length of kitchen string. Drop the spice bundle into the cider mixture. Place the saucepan over moderate heat for 5 to 10 minutes, or until the cider is very hot but not boiling. Remove the cider from the heat. Discard the spice bundle. Ladle the cider into big cups or mugs, adding a fresh cinnamon stick to each serving, if you like.

Links:
AllRecipes.com - Halloween Recipes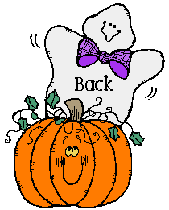 [Recipes] [Egyptian Recipes] [The "Basic Four"]
[Cooking Remedies] [Emergency Substitutions]
[Links] [Awards] [Banner Exchange] [Web Rings]
[Home]