Aunt Lynnie's Pig Page 2
Oh Oh, this is getting out of hand! I never realized there were so many cute and cuddly pigs out there but I just had to have them and give them a good home. These are not cyber pets they're just little lost souls that followed me home. I've tried to add links back to the pages where they came from in case their owners were wondering where they went (^@^)
This was a wonderful surprise from a very wonderful, talented lady. Thank you so much Silvana! She has a fantastic site. Click on Star and she'll take you there :)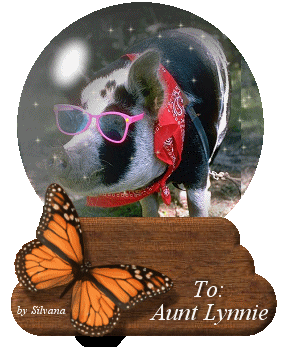 If you haven't been to Kitty Roach's site, PAGE WORKS you really are missing one of the best on the Web.
I found Miss Sissy Porcine just relaxing and waiting for me there.

animated.gif (c) Kitty Roach
Thanks to Bon from

for this very special snow globe that she made for me. You must check out her site, it's great!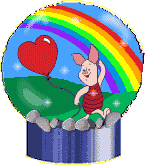 This is Lovey, sent to me by Krisanne.
And wow, here's another special one from Krisanne. Think I'll name him Digger.
Thanks Krisanne!
This little guy is McMug. Don't you think he's just the cutest thing?

He's the creation of The Yellow Bus (It's all in Chinese but there are fan pages in English)

Wish my piggy bank at home had this much action!



like this adorable pair, Tess and Toby.


When I was in the country I invited the Pig family for a visit. There's Mom, Dad, little brother and the hard working big brother who holds all the signs on my site. He's been such a big help.
They're visiting from

What can I say about this guy, he's a creation of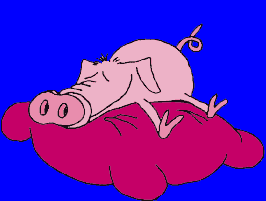 King Tut-ank-HAMun and CleoPIGtra combine my love for Egypt with pigs so, I couldn't resist.
And yet another Egyptian Pig, he came from the Pink Pig Page.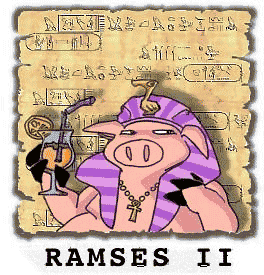 Two Piggies in LOVE!
Thanks to Orchid's Free Clipart for this cute pair
Winter fun from the German magazine Super Illu they were given as stickers for the Holidays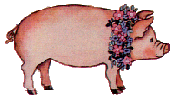 Pretty Flora is visiting from

A Proud Member of THE PIG LOVERS RING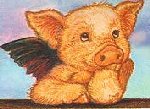 - list - prev - next - random - join -
[RAOK Dedication] [Friendship Garden]
[RAOK Summer Beach Party] [RAOK Gifts]