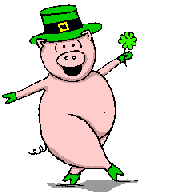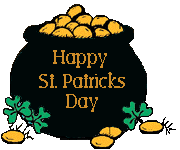 The Luck O' The Irish to you! Welcome to my recipes to celebrate St. Patrick's Day. Every March 17th I think everyone, no matter what nationality they may be, becomes a wee bit Irish. So get out your green apron, put on a little Irish music and start cookin!

Irish Soda Bread
4 Cups Self Rising Flour
1 tsp. Baking soda
1/4 Cup Sugar
1/4 Cup Butter (1/2 stick)
1 Egg
1 1/3 Cup Buttermilk
2 Cups Raisins (optional)
1 egg yolk (optional)
Heat oven to 375 Degrees. Mix the flour, soda and sugar. Cut in the butter until mixture looks like course meal. Stir in the raisins. Combine Buttermilk and egg and stir into the flour mixture to form a stiff dough. Add extra milk if necessary for mixture to hold together. Knead on a floured board until smooth. Place in a 2 quart, greased casserole. Cut a cross pattern into the top of the dough. Brush with egg yolk if desired and bake for about an hour or until deeply browned. Cool slightly in the bowl, slice and serve warm.

Potatoes O'Brian
2-3 Red potatoes, diced into 1/2" cubes
1 Large onion, diced
1/2 Green or red (or both) bell pepper, diced
Cooking Spray or 2 Tblsp. Butter or margarine
Salt and Pepper, to taste
Heat a large skillet that's been sprayed with cooking spray or a couple of tablespoons of butter or margarine over medium heat. When hot, add potatoes and salt to taste. Cook, turning infrequently so potatoes brown, till about 1/2 done. Add onions and peppers, and continue to cook until potatoes are browned and tender. Season with pepper.

Irish Lamb Stew
1 Tblsp. shortening
1 1/2 lbs. Lamb shoulder, cut into 2" cubes
2 Medium Onions, chopped
2 Cups Beef broth
3 Medium Potatoes, pared and thinly sliced
1/2 tsp. salt
1/4 tsp. Pepper
1/4 tsp. Celery seed
1/4 tsp. Marjoram leaves
1/8 tsp. Thyme leaves
1 Package frozen peas, broken apart
Melt shortening in large skillet, brown meat well. Drain off fat. Add onions, cook and stir until tender. Pour broth over meat and onions. Cover and simmer for 2 hours. Stir in the potatoes and seasoning. Cover and simmer for another 30 minutes. Skim off excess fat. Stir in peas, cover and cook 10 minutes longer.

Irish Coffee
1 Cup Chilled Whipping Cream
1/4 Cup confectioners sugar
1 tsp. Vanilla
3/4 Cup ground coffee
3 Cups Water
4 oz. (1/2 cup) Irish Whiskey or Brandy
4 to 8 tsp. granulated sugar
In a chilled bowl, beat cream, confectioners' sugar and vanilla until stiff. Refrigerate. Prepare coffee using the 3/4 cup coffee and 3 cups water. Heat mugs by rinsing with boiling water, drain. Add 1 oz. (2Tblsp.) whiskey and 1 to 2 tsp. granulated sugar in each mug. Pour hot coffee into each mug. Top with the whipped cream. Serve immediately. Makes 4 (3/4 cup each) servings.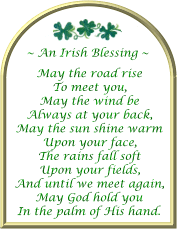 [Recipes] [Egyptian Recipes] [The "Basic Four"]
[Cooking Remedies] [Emergency Substitutions]
[Links] [Awards] [Banner Exchange] [Web Rings]
[Home]

Thank you Candi for making this St. Patrick's Day quilt piece for me