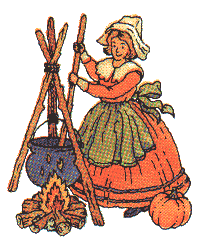 One thing I am definitely thankful for is that we don't have to cook like that anymore! Today we have it a lot easier. Matter of fact, most of our Thanksgiving dinner can be prepared from packaged, canned or frozen products and most of us have our traditional family recipes that we prepare year after year. So, instead of giving you recipes for your Thanksgiving Day dinner I've decided to put a few recipe ideas on here for your LEFTOVER holiday dinner. I've added links at the bottom of the page for sites that will give you some great advise on preparing your turkey, stuffing and other traditional dishes just in case you need the help or are looking for new ideas. But for now, on with the leftovers!



Turkey Enchiladas
2 cups cooked shredded Turkey
12 oz. shredded Cheddar or Mexican cheese
1/4 cup oil
1/2 cup chopped onion
12 corn tortillas
1-1/2 cups canned or jarred Enchilada sauce
Heat oven to 350 degrees. Combine turkey, half of the cheese and the onion; set aside. Heat oil in small skillet. Quickly dip each tortilla to thoroughly heat. Drain well on paper toweling. Dip in sauce and fill each tortilla with about 2 tablespoons turkey mixture; roll tightly. Pour about 1/2 cup of the sauce in the bottom of a 13x9-inch pan. Arrange filled tortillas, seam side down, in a single layer. Spoon remaining sauce over tortillas and sprinkle with remaining cheese. Bake 10 to 15 minutes or until heated and cheese is melted.
Turkey Pot Pie
1 Box refrigerated pie crust
1 16oz. pkg. frozen mixed vegetables
1 Cup Cooked Turkey, cubed
2 Cups Turkey gravy
1 tsp. Salt
Pepper to taste
Heat oven to 400 degrees. Line bottom of 9" pie pan with one of the pie crusts. In a bowl, mix frozen vegetables, turkey, salt, pepper, and 3/4 cup of the turkey gravy . Pour into pie pan. Unfold other crust and place over top of filling. Turn top crust under the edge of bottom crust and scallop edges. Cut small vent hole in the middle of the top crust. Place on a cookie sheet on the middle rack of oven and bake for 45 minutes or until golden brown. Heat remaining gravy and pour over each serving. Serves 4-6

Impossible Turkey/Stuffing Pie
2 Cups Turkey; cooked and diced
1/2 tsp. Seasoned salt
1 Cup Prepared turkey stuffing
1/4 Cup Green onions; with tops, sliced
1/2 Cup peas; cooked
1 Cup Milk
2 Eggs
1/2 Cup Bisquick ©
Heat oven to 400. Grease a 9" pie pan. Arrange turkey in pan, sprinkle with seasoned salt. Separate stuffing into small pieces; arrange on turkey. Top with onions and peas. Beat remaining ingredients until smooth, 15 seconds in blender on high. Pour into pie pan. Bake until knife inserted in center comes out clean about 30-35 minutes. Cool for 5 minutes. Serve with hot turkey gravy.
Turkey Divan
1 10 oz.package frozen broccoli, cut up, cooked and drained
1 1/2 cups Cubed cooked turkey
1 can condensed Cream of Broccoli or Cream of Chicken Soup
1/3 cup Milk
2 Tblsp Dry bread crumbs
1 Tblsp Margarine or butter, melted
Preheat oven to 450 degrees. In a 1 1/2-quart oven-proof casserole, arrange broccoli and turkey. In a mixing bowl, combine soup and milk. Pour over broccoli and turkey. Combine bread crumbs and margarine; sprinkle over top. Bake 15 minutes or until hot.
Links
Prevention: Thanksgiving Recipes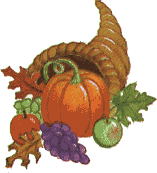 [Recipes] [Egyptian Recipes] [The "Basic Four"]
[Cooking Remedies] [Emergency Substitutions]
[Links] [Awards] [Banner Exchange] [Web Rings]
[Home]