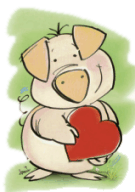 When I think of Valentine's Day the first thing I think about is Love and Romance. The second thing I think about is Chocolate! Here's a few recipes that will have any chocolate lover yelling for more. There's even a couple that are on the "light" side for everyone watching their weight but still craving the wonderful taste of chocolate.

Chocolate Kiss Mousse
1 1/2 cups miniature or 15 regular marshmallows
1/3 cup milk
2 tsp. kirsch or 1/4 tsp. almond extract
6 to 8 drops red food color
36 HERSHEY'S KISSES ©
1 cup cold whipping cream
Additional Hershey's Kisses for garnish, if desired
In a small saucepan combine marshmallows and milk. Cook over low heat, stirring constantly until marshmallows are melted and mixture is smooth. Remove from heat. Into a medium bowl, pour 1/3 cup marshmallow mixture, stir in kirsch or almond extract and food color, set aside. Remove wrappers from kisses and add to remaining marshmallow mixture, return to low heat, stirring constantly until chocolate is melted. Remove from heat and cool to room temperature. In small mixer bowl, beat whipping cream until stiff. Fold 1 cup whipped cream into chocolate mixture. Gradually fold remaining whipped cream into reserved mixture. Fill 4 parfait glasses about 3/4 full with chocolate mixture, spoon remaining mixture on top. Refrigerate 3 to 4 hours or until set. Garnish with additional kisses, if desired.
Fudgy Fondue
2 cups (12oz. package) HERSHEY'S © Semi-Sweet Chocolate Chips
3/4 cup milk
1 can (14oz.) sweetened condensed milk
Assorted Fondue Dippers:
Cake pieces, marshmallows, cherries, grapes, mandarin orange segments, pineapple chunks, strawberries, fresh fruit slices or whatever you like!
In a heavy saucepan over low heat, combine chocolate chips, milk and sweetened condensed milk. Stir constantly until chocolate is melted and mixture is hot. Pour into Fondue pot or chafing dish, serve warm with assorted Fondue dippers.
Creamy Chocolate Dipped Strawberries
1 cup HERSHEY'S © Semi-sweet chocolate chips
1/2 cup HERSHEY'S © Vanilla Milk chips
1 Tblsp. shortening (Do not use butter, margarine or oil)
Fresh Strawberries, rinsed and patted dry (about 2 pints)
Cover tray with wax paper. In medium microwave-safe bowl, place chocolate chips, vanilla milk chips and shortening. Microwave on HIGH (100%) 1 minute, stir. Microwave at HIGH an additional 30 seconds or until chips are melted and mixture is smooth when stirred vigorously. Holding by top, dip bottom two-thirds of each strawberry into melted mixture, shake gently to remove excess. Place on prepared tray. Cover and refrigerate until coating is firm, about 1 hour. For best results, use within 24 hours.
Chocolate Cherry Angel DeLight
1/2 cup HERSHEY'S © Cocoa
1 Package "two-step" angel food cake mix
1 envelope whipped topping mix
1/2 cup cold skim milk
1/2 tsp. vanilla extract
1 can reduced-calorie cherry pie filling
Move oven rack to lowest position. In small bowl, sift cocoa over contents of cake flour packet, stir to blend. Proceed with mixing cake as directed on package. Bake and cool as directed for a 10-inch tube pan. Using serrated knife, cut cake horizontally to make three layers. Prepare topping mix as directed on package using skim milk. Fold 1/2 of pie filling into whipped topping. Place one cake layer on serving plate, spread with half of whipped topping mixture. Repeat procedure ending with plain layer on top. Spoon remaining pie filling over top. Refrigerate leftover desert. About 14 servings.
Choco-Light Muffins
1 1/2 cups all purpose flour
3/4 cup sugar
1/4 cup HERSHEY'S © cocoa
2 tsp. baking powder
1 tsp. baking soda
1/2 tsp. salt
2/3 cup vanilla lowfat yogurt
2/3 cup skim milk
1/2 tsp. vanilla extract
Powdered sugar for garnish
Heat oven to 400 degrees. Paper line muffin cups. In medium bowl, stir together flour, sugar, cocoa, baking powder, baking soda and salt. Stir in yogurt, milk and vanilla just until combined. Do not beat. Fill each muffin cup 2/3 full with batter. Bake 15 to 20 minutes or just until a toothpick inserted in center comes out clean. Cool slightly in pan on wire rack. Sprinkle with powdered sugar, if desired. Serve warm.

For some wonderful Valentine's recipes and ideas check out Woman's Day Online.
[Recipes] [Egyptian Recipes] [The "Basic Four"]
[Cooking Remedies] [Emergency Substitutions]
[Links] [Awards] [Banner Exchange] [Web Rings]
[Home]